Akbar Birbal and well water puzzle
1,358.0K Views
Answered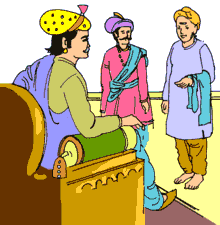 A farmer and his neighbor once went to Emperor Akbar's court with a complaint. "Your Majesty, I bought a well from him," said the farmer pointing to his neighbor, "and now he wants me to pay for the water." "That's right, your Majesty," said the neighbor. "I sold him the well but not the water!" The Emperor asked Birbal to settle the dispute.
Expert
Asked on 22nd July 2015 in
Puzzles.
Best answer
Birbal will Ask him to pay rent for keeping his water in his well 
OR
Take out all the water from the well,
Birbal – The neighbour should take the water with him since the well belongs to farmer.