Donkey's abnormal legs riddle
1,166.6K Views
Answered
A donkey travels the exact same distance daily. Strangely 2 of his legs travels 40 kilometers and the remaining two travels 41 kilometers, Obviously 2 donkey legs cannot be a 1km ahead of the other 2.
The donkey is perfectly normal. So, how come this be true?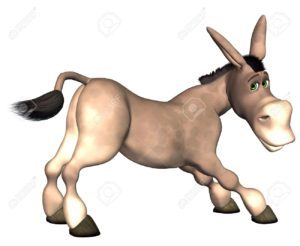 Best answer
Travelling need not be in same direction. Assume a repeated to-and-fro walk between two points over a short distance. In this condition, in every trip, the hind legs will travel slightly less (say, a couple of  feet, being the distance between the pairs of legs). When this movement is repeated many times, the shortage will add up.
Another (theoretical) possibility is a walk along a circular path. In this case, the legs on the inside of the path will travel less (because they move in a slightly smaller circle compared to the outer ones). But since the distance between the pairs of legs (right & left) is very small (a few inches only),  it will be practically impossible to get a difference of 1 km.
travels in  circular path .so different radius and circumference