How many balls are there in the picture?
Best answer
There are are 16 balls visible and are in the picture that's the answer.
But if it's a Pyramid of balls then the total amount is 20 (since a pyramid made of balls is 3 sided, not 4 sided).
The top level:                                1 ball
1st level from top:                     3 balls
2nd level from top:                   6 balls
Bottom level:                               10 balls
=20 balls total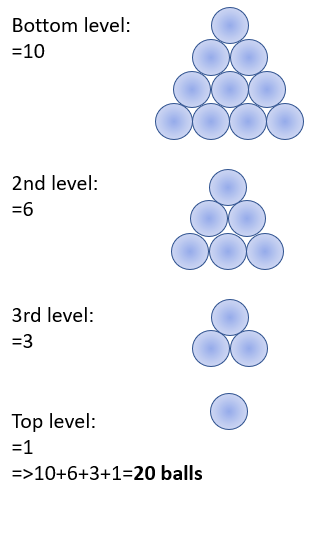 It is most probably a 4 side triangular base pyramid.
So there are 25 balls.
Base: 12
2nd: 8
3rd: 4
And Top:1
If pyramid than 25.
Base – 12
2nd – 8
3rd – 4
Top most – 1
Number of balls seen = 16,
If it is a real pyramid  then 25, But NUMBER OF BALLS I AM SURE OF(visible) is 16
Why can't it be 16+9+4+1=30?