Ladder hangs over the side of a ship puzzle
1,211.0K Views
A ladder hangs over the side of a ship anchored in port. The bottom rung of the ladder touches the water. The distance between rungs is 30cm, and the length of the ladder is 270cm. If the tide is rising at a rate of 15cm per hour.
How long will it be before the water reaches the top rung?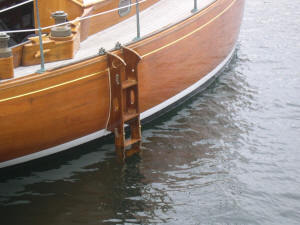 Never.When the water rise ship will also rise with the water so water will never reach the top rung.
Assuming the ship is sinking and hence water is rising around it.
Since the bottom rung touches the water already and we need to only find when the water would reach top rung, i.e. water needs to travel 270 cm – 30 – 30 = 210 cm
210 cm / 15 cm/hr = 14 hours
So it'll take 14 hours for water to reach top rung.