Turn the pyramid upside down by only moving 3 coins
1,011.0K Views
In the picture, you can see a pyramid that is made of ten coins.
By moving only 3 coins, can you turn the pyramid upside down?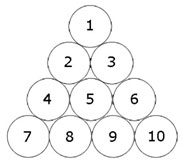 Take the Coin 7 and 10 and place it besides 2 and 3 .Now take coin 1 and  place it at the top of 8 and 9.