How many bounces will the ball take?
1,124.4K Views
Donald Duck throws a ball from a 90 feet building. The ball is quite bouncy and when it hits the ground, it bounces back half way up. It keeps bouncing back to half way up.
How many bounces will the ball take before it comes to a permanent halt?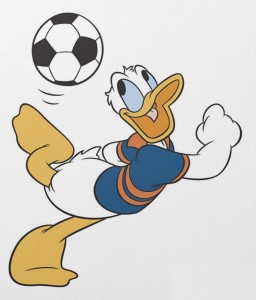 This depends on the definition of "a bounce".
In order for anything to bounce, it must first absorb energy and then release the energy.  Basically, the energy is temporarily stored in the distortion of the object, and then released when the object "springs" back to its original shape.  The deformation of the ball causes the ball to compress.  The ball can be considered to have stopped bouncing when the energy released by springing back is less than the amount of energy required to lift the ball by a distance equal to its compression.  When the energy released reaches that point, the ball is at rest.
Unfortunately, nothing in the question allows us to determine how much the ball deforms when it bounces, thus the number of bounces can't be determined.  The answer is most certainly not "infinite", which is the naive answer you get from considering the geometric sequence of a "perfect" ball that doesn't compress at all when it bounces.
The ball will make infinite bounces before it is stopped.
As per the puzzle it will keep on bouncing half way up every time it hits the ground. But gravity will play its part at certain point of time which will make it stop.