Scoring maximum run in Cricket puzzle
1,077.0K Views
Answered
Puzzle for Cricket fans.
Two batsmen Sachin and Kohli are each on 94 runs.
Seven runs are needed to win in the last 3 balls.
What is the maximum run both can score individually?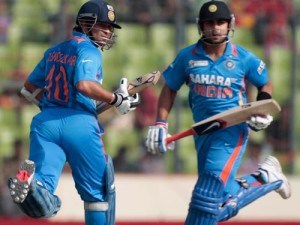 Best answer
Both batsman can score 100.
Explanations:
In case if batsman plays a ball and it hits the helmet of keeper/fielder's when it is on the field but not being worn, batsman is awarded a 5 run penalty.
So lets say Sachin was on strike. He plays the ball and it hits the keeper/fielder's helmet. In the same time they exchange the ends as well. Thus Sachin got his 6 runs and completed his 100.
Now Kohli is on strike and team still needs 1 run to win. Kohli hits next ball for 6. and completes his 100 as well.
Since 7 runs are required to win, the maximum runs that can be scored to win is 12. Max. scoring possibilities can be as follows:
The batsman on strike hits 2 consecutive sixes. With the first one, he completes his century. With the next, match over and the striker has the maximum possible individual score of 106, leaving the non-striker on 94 itself.
The striker scores 3 off the first ball, giving strike to the non-striker. He, in turn, returns the favour by scoring another 3 off the next ball and bringing the other batsman back on strike. With scores level, the striker hits a six off the last ball, taking his tally to 103 and the other non-striker remains on 97.
The striker hits a four off the first ball and takes a single off the next, taking his score to 99 and bringing the other batsman on strike. The new striker scores a six off the last ball, reaching his century, and winning the match for the team. Thus, both batsmen get the maximum possible runs for themselves, but the maximum possible total runs is not reached.

(Assumed that the bowler bowls no no-balls / wides in between.)
99 & 100.  Batsman on strike will hit the first ball for four and then on second he will take a single, his individual score will be 99.
Last ball and we still need 2 to win, batsman on strike will hit it for 6 and complete his century.